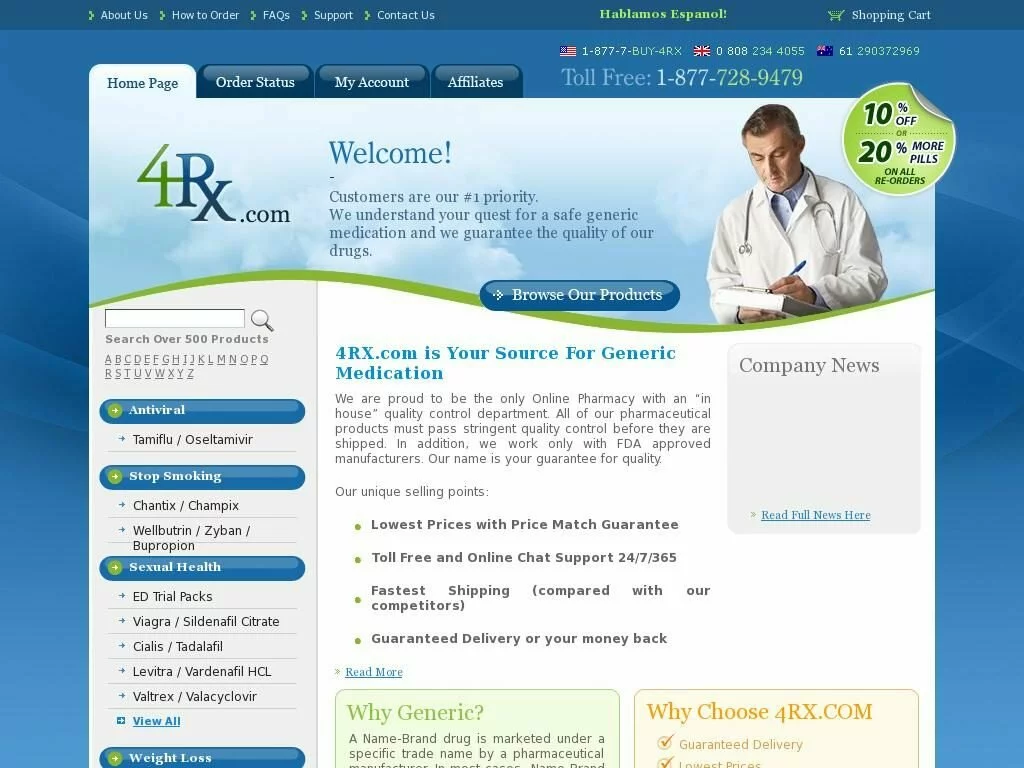 Links from or to websites outside this Web Site are meant for convenience only. 4rx.com does not review, endorse, approve or control, and is not responsible for any sites linked from or to this Web Site, the content of those sites, the third parties named therein, or their products or services. Linking to any other site is at your sole risk and 4rx.com will not be responsible or liable for any damages in connection with linking. 4rx.com disclaims all warranties, express and implied as to the accuracy, validity and legality of any materials or information found on those sites. Links to downloadable software sites are for convenience only and 4rx.com is not responsible or liable for any difficulties or consequences associated with downloading the software. Use of any downloaded software is governed by the terms of the license agreement, if any, which accompanies or is provided with the software.
Availability of Our Web Site
This Web Site is generally available to users Twenty-four (24) hours per day, Seven (7) days per week, Three Hundred Sixty-five (365) days per year. However, 4rx.com retains the right to make our Web Site unavailable at any time, for any reason, and for any length of time. By using this Web Site you agree that 4rx.com will not be liable for any damage arising out of or related to any such interruption, suspension, or termination of this Web Site and/or the services or products contained therein. Upon acceptance of these terms and conditions of use 4rx.com authorizes you to view the Content on the Web Site solely for your personal use. The material on the Web Site is intended solely for individuals enquiring about 4rx.com's products or services. If you are not accessing the Web Site for such purposes, you may not use the Web Site. For certainty, use by non-individuals or the agents, attorneys or representatives of non-individuals is prohibited.
Information You Provide 4rx.com
Our collection and/or use of any information you provide while using or visiting this Web Site is governed by the 4rx.com Privacy Policy and this Terms and Conditions of Use Agreement. By using this Web Site you grant us the rights contained therein. In using this Web Site you may not upload, distribute, or otherwise publish on this Web Site any information which may be viewed as obscene, defamatory, libelous, threatening, abusive, illegal, an invasion of privacy rights, or otherwise objectionable, or may constitute or encourage a violation of any law.
Except for that individually-identifiable information collected from you in accordance with our Privacy Policy, all comments, remarks, suggestions, ideas or other information communicated will become the exclusive property of 4rx.com and you grant to 4rx.com a royalty-free, perpetual, irrevocable, world-wide, non-exclusive license to use or reproduce the same. 4rx.com is free to copy, disclose, distribute or analyze any such information for any and all purposes and are in no way obligated to compensate you for any such information.